Almost everyone loves a Terry's chocolate orange at Christmas, so I decided to incorporate one into my
pre-Christmas charity cake sale
. This cake went down an absolute storm at my cake sale, to the extent I could be tempted to start up a new sideline :-)
I love the idea of chocolate orange cake and have previously made one with orange buttercream; but this time I decided to go for chocolate orange sponge filled with orange curd with cointreau, and also filled and topped with chocolate orange ganache.
The main problem with chocolate orange baking is the scarce availability of orange flavoured dark chocolate ... most available makes eg. Lindt are filled with crunchy orange pieces rather than suffused with orange flavouring. Terry's chocolate orange is definitely the way to go; but the dark ones are only available in the shops in the run up to Christmas, and even then are not that easy to find. In my opinion milk chocolate would be too sweet in combination with orange for baking ...lovely for eating, but when it comes to frosting a cake dark is definitely required! So if anyone from Terry's reads this ... PLEASE make your dark chocolate oranges available all year round - they are fab both for baking and eating!!
Anyhoo I hunted around and did manage to find some supplies (in Superdrug and Wilko of all places), so I was on my way.
Terry's Chocolate Orange Cake with cointreau
Adapted from
Mary Berry's Very Best Chocolate & Orange Cake in Delicious Magazine
Ingredients:
100g unsalted butter, softened
50g cocoa powder
90 ml boiling water
3 large eggs
4 tbsp milk
175g self-raising flour, sifted
1 rounded tsp baking powder
300g caster sugar
Finely grated zest of 1 orange
For the filling and icing:
150g dark Terry's chocolate orange, broken into small pieces
150ml double cream
Several tbsp of orange curd (I used Welsh Roots orange curd with cointreau)
Equipment:
2 * 8" (20cm) round cake tins,greased and with the bases lined with baking parchment.
Method:
1. Preheat the oven to 180 C/160 C (fan)/Gas Mark 4. Grease and line the baking tins.
2. Measure the cocoa and boiling water into a large bowl and mix to a paste. Add the rest of the cake ingredients and beat again until combined.
3. Divide the mixture evenly between the prepared cake tins. bake in the pre-heated oven for 20-25 minutes until the sponges are well risen and shrinking away from the sides of the tins.
4. Leave in the tins for approx 10 minutes and then turn out onto a wire rack to cool.
5. To make the chocolate ganache, put the chocolate and cream into a heat-proof bowl, then stand over a pan of simmering water for about 10 minutes, stirring until the chocolate is melted (don't let the bowl touch the water in the pan). Set aside to cool until it thickens to a spreading consistency.
6. Spread the top of one songe thinly with orange curd, then spread with slightly less than half the chocolate ganache. Place the second sponge on top then spread with the remaining ganache. Use a palette knife to swirl the icing evenly.
7. You can add more grated Terry's chocolate orange, or alternatively orange Matchmakers or any chocolate decorations on top. (I didn't bother with this last step as I wanted to keep my costs down while baking for charity).
Observations:
This was easy to make and was extremely popular ... I never managed to grab a slice for myself as it all went extremely quickly. In fact several people mentioned to me after the event that they were disappointed to have missed out on it, so clearly it fired my colleagues' imaginations! The best I managed was to hoover up a few crumbs off the plate, and a friend took pity and gave me a small forkful from her slice ... on that limited basis I thought it tasted pretty good.
I am now thinking I may try making some mini versions using my Lakeland mini-Victoria sandwich tin!
I would like to enter this into the following challenges: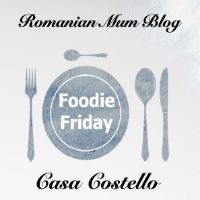 Thanks for visiting.
Hugs,