Hi everyone,
With the falling of the leaves and bonfire night upon us, my thoughts turned to warming winter cakes ... and I saw a fabulous recipe on Kat's
Baking Explorer
blog for a "Bonfire Cake" - gingerbread and Guinness bundt cake with salted caramel icing, loosely adapted from
Chow
.
I'd never made gingerbread cake or caramel icing before, nor indeed any recipe involving dark brown sugar and treacle ... so I felt inspired to give it a go and take it to work for my colleagues. I was a bit late for bonfire night, but took it into work a few days later .... only just got round to writing it up now! I kind of did a hybrid, with Kat's cake but with a more drizzly icing as per Chow.
Gingerbread & Guinness Bundt with Salted Caramel Drizzle Icing
Taken from
The Baking Explorer
and
Chow
Ingredients:
For the cake:
255g plain flour
2 tsp baking powder
1/2 tsp bicarbonate of soda
2 tsp ground ginger
1 tsp cinammon
1/4 tsp nutmeg
1/2 tsp salt
165g dark brown sugar
170ml vegetable oil
3 large eggs, beaten
340g black treacle
250ml Guinness
For the salted caramel drizzle:
57g butter
165g dark brown sugar
175ml double cream
2t sp vanilla extract
1/2 tsp salt
Equipment:
Bundt tin - I used my
Lakeland fluted cake ring
tin.
Method:
1. Preheat the oven to 180
°
C/160
°
C fan/Gas mark 4.
2. Grease and flour your tin, or (as I did) brush with Cake Release.
3. In a large bowl, beat together the Guinness, treacle, dark brown sugar, vegetable oil and eggs.
4. Sift together the flour, baking powder, bicarbonate of soda, ginger, cinnamon, nutmeg and salt - add to the wet ingredients and beat together until combined (don't overmix).
5. Pour mixture into the prepared tin until level, and bake in pre-heated oven for 45 minutes or until a skewer inserted in the centre comes out clean.
7. Let the cake cool in the tin for 5-10 minutes then turn out onto a wire rack to cool completely.
8. Make the salted caramel by melting the butter in a pan, then add the sugar and cream - keep stirring and let the sauce bubble for about 5 minutes. Then add the vanilla extract and salt. Pour into a heatproof bowl (or even better a jug) to cool.
9. When the icing and cake are both cool, pour the icing over the cake so it drizzles down the sides.
Observations:
This cake was very easy to make, made the house smell great, and looked good when it was done. The cake was also very soft and moist, and a beautiful colour. However I would have to be honest and say I found the flavour of it to be
very
strong and quite bitter due to the amount of treacle used, and some of my colleagues said the same... in fact my husband commented that whilst the cake had obviously turned out as it should, he didn't really like it. The biggest fans were those colleagues who are die hard gingerbread fans - clearly it's a matter of personal taste.
These reactions led me to do a bit of googling, and I found that this particular recipe was very heavy on the dark treacle compared to many ... never having used treacle in a recipe before I didn't really know what to expect!! However I didn't feel downhearted - the cake did turn out right in terms of the recipe, and it gave me a few learning points about how to use ingredients ... so next time I may try a gingerbread cake with a mixture of treacle and golden syrup, or perhaps light brown sugar ... here's to the next experiment!!
Challenges:
I would like to enter this effort into a few baking challenges, namely:
November's
Teatime Treats
hosted by
The Hedge Combers
and
Lavender and Lovage
-
Bonfire Night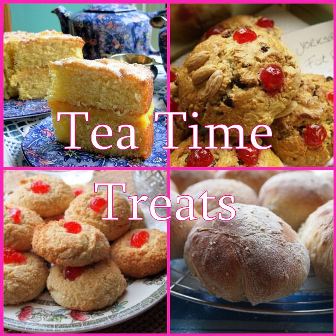 November's
Love Cake
challenge -
In With A Bang!
That's all for today - 'til next time.
Hugs,